Validate Any Business Idea, In Seconds
Use AI to
instantly validate business ideas

, save

valuable time

, decide whether to

pivot

, and

invest wisely

Dive in now for free - just enter your business name and idea!
What's inside my business report?
What's inside my business report?
75k+
Entrepreneurs
have used Dimeadozen to better their business.
100k+
Reports generated
More than 100,000 ideas empowered!
<20s
Avg. generation time
Get answers in seconds not days.
10+
types of report
Over 10 reports to help you pivot and reach new audiences.
We've been mentioned in the press





From Zero to One
Transforming Ideas into Certainties
Expertly crafted reports cover every aspect of your idea, from concept validation to execution strategies, giving you a newfound confidence in your venture.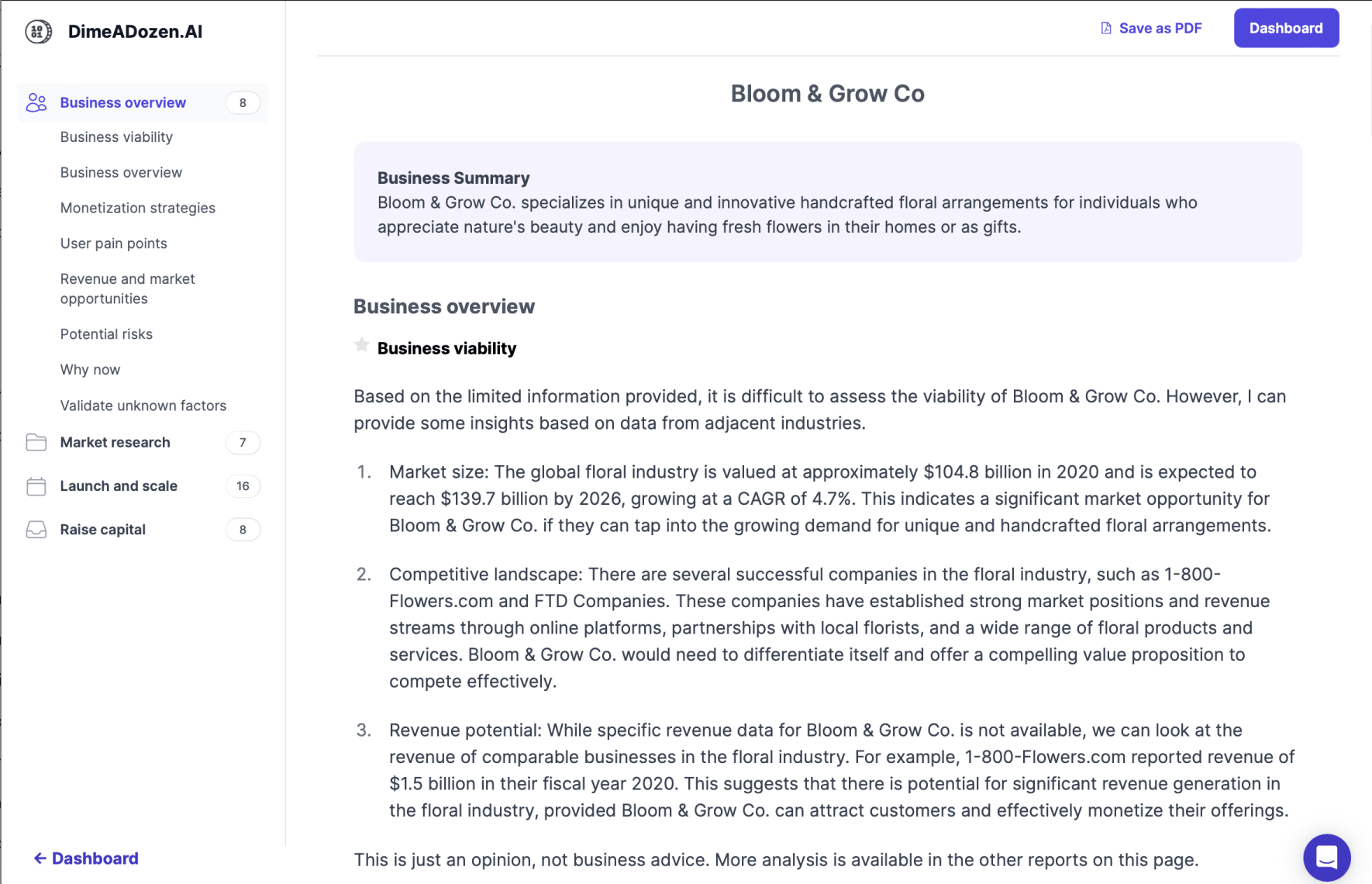 Features
AI Business Advisors, Anytime, Anywhere.
We understand the aspirations and challenges of individuals like you, caught between stable careers and the dream of entrepreneurship. We recognize your potential and are here to empower your journey.
Instant Business Validation
Wondering if your idea has potential? Our system instantly analyzes your concepts, providing real-time validation. Focus on ideas with genuine market potential and avoid wasted efforts.
Time-Saving Solutions
Time is money, and we value yours. DimeADozen saves you countless hours of research and guesswork, streamlining your decision-making process and allowing you to move forward with confidence.
Smart Pivoting Decisions
Considering a pivot? Our AI analyzes market trends and consumer behavior, enabling intelligent pivoting decisions that align your business with current demands and trends.
Competitor Insight
Gain insights into competitors' strategies, uncovering their strengths and weaknesses. Refine your approach, pinpoint market gaps, and gain a competitive edge in your industry with this information.
Capture New Audience
By understanding the unique needs and preferences of diverse consumer groups, you can tailor your offerings and marketing strategies for maximum impact.
Growth Amplified
Dream big, think bigger! With our Scaled Ideas report, your vision knows no bounds. Prepare to see your business ideas flourish and expand beyond your wildest dreams.
Frequently asked questions
Need help? Contact our customer support team for assistance.
Still have questions?
Need assistance? Our friendly team is here to help. Chat with us now to get the answers you're looking for.
"Everyone was trying to figure out how we came up with so much quality information so quickly"

Start your journey
Over 75,000 Entrepreneurs Strong: Your Day One to Entrepreneur Starts Here.